SOLD
145,000 miles
Automatic
Nav and remote starter
It will come with a set of winter tires and rims and another set of all seasons with rims. Both sets will last you a few years.
Also roof rack and kayak holder.
Brakes where done last year. Only problem with the car is the AC needs to be recharged.
Right now I will just take reasonable offers.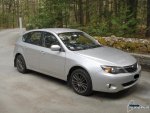 Last edited by a moderator: